RESIDUAL MATERIALS (COMPOSTING, RECYCLING, WASTE)
Collection of bulky items (large waste): May 11 to 28, 2020
May 11 Anse-à-Valleau, Pointe-Jaune, St-Maurice
May 12 Petit-Cap to Auberge Caribou in Rivière-au-Renard
May 13 Rivière-au-Renard and the Montée de Rivière-Morris
May 14 Anse-au-Griffon and Cap-des-Rosiers
May 19 Grande-Grève, Cap-aux-Os, Forillon and Rosebridge
May 20 Fontenelle, St-Majorique, Corte-Réal and Montée de Pointe-Navarre
May 21 Boul. Pointe-Navarre, boul. Gaspé and Petite-France
May 22 Gaspé downtown and Montée de Wakeham
May 25 Gaspé, Wakeham and Sunny Bank Investments
May 26 Boul. York East, West and South
May 27 HLM, Sandy Beach, Haldimand
May 28 Douglastown
Free CRD Saturdays 2020
You can dispose of construction residues (CRD) free of charge
When? Saturdays June 6, July 4 and August 29, 2020
Or? At the Rivière-au-Renard municipal garage and at the Gaspé eco-center
2020 Household Hazardous Waste (HHW) Collections
September 19 and 20: Gaspé arena and Rivière-au-Renard muinicipal garage
Leaf collection
Do you have bags of leaves? Call us before November 1st and we will
will come and get them during the month of November. In the meantime, you can always come and bring your bags of leaves to the ecocentre.
Telephone: 418-368-2104, p. 8507
ECOCENTRE
Winter schedule (January 1 to April 13 and December 2 to 30)
Wednesday and Friday from 7:30 a.m. to 12 p.m. and from 12:30 p.m. to 16 p.m.
Summer schedule (April 15 to October 12)
Monday to Friday from 7:30 a.m. to 12 p.m. and from 12:30 p.m. to 16 p.m. Saturday from 7 a.m. to 17 p.m.
Fall schedule (October 14 to November 29)
Monday to Friday from 7h30 to 12h and from 12h30 to 16h
When the LET and the ecocentre are closed due to public holidays, the holidays are entered in the "Closed" calendar
BULK
Compost ROTS, that is to say made from organic residues sorted at source, so the result of the brown bins!
25% off the price displayed for use by a non-profit organization.
Point of sale: Écocentre de Gaspé, 1050, Montée de Wakeham
Cost :
$ 50,00 / ton
$ 0,05 / kg
$ 1,00 / 20L boiler
Maximum possible quantity per citizen: 1 ton
For trips of ten or more wheels:
We will help organize transportation, but the customer must pay for transportation and compost.
For any questions, you can contact Ms. Laury Aspirault at (418) 368-2104, extension 8509.
The collection of organic materials will begin in June 2018 for all residents of the City of Gaspé.
For a wealth of information on the brown bin, visit the website of the RITMRG.
Materials accepted and refused in the brown bin
Accepted:
Green residue
Dead leaves, cut grass, weeds
Straw and hay
Peat, indoor or outdoor plants
Marine residues
Fish (including bones, bones and fat)
Seafood (shells and shells included)
Food residues
Table scraps
Meat and poultry (including bones and fat)
Bread, pasta
Dairy products
Walnut shells
Desserts and sweets
Fruits and vegetables
Coffee (marc or grain and filters)
Tea and herbal tea bags
Other organic matter
Paper towels, napkins and handkerchiefs
Newspapers and soiled papers (pizza boxes, muffin papers, tablecloths, place mats, etc.)
Clumping or non-clumping litter in bulk or in a paper bag
Sand and earth
Refused materials
Ashes
Styrofoam (meat packaging)
Plastic bags
Diapers and sanitary products
Household hazardous waste
Compostable or biodegradable bags
Avoid all metal (pins and others)
The collection of recyclable materials has been in place on the territory of the City of Gaspé since 1998. Since then, the range of materials accepted, as well as the participation of citizens, have increased. In addition, a glass sorting line has been present since March 2017, thanks to the "Glass innovation" pilot project. This equipment made it possible to locally develop this material through several projects.
You will find a wealth of information on recycling on the RITMRG website.
What to put in the blue bin?
Paper, cardboard, plastic, glass and metal are accepted materials in the blue bin. Since 2012, the Grande-Rivière sorting center has also accepted blue bin plastic bags and films, as well as milk and juice cartons (Tetra Pak). Some accepted subjects are listed below. Wondering if a material not listed below is recyclable? Call us at 418-385-4200 and we will be happy to answer you.
Cardboard
Newspapers
Flyers
Magazines / books
Catalogues
directories
Brown bags
White and color paper
envelopes
Cardboard boxes
Carton of eggs
Juice or milk cartons (Tetra Pak)
Lottery tickets
Any other unsoiled paper / cardboard
Plastic
Bottles of water and soft drink
Bread bags and flexible plastic packaging (e.g. Saran Wrap film)
Containers of yogurt, margarine and other unsoiled plastic food containers (# 1 to # 7, except # 6 e.g. plastic utensils, individual yogurt containers, CD case)
Detergent and shampoo bottles
Pallet packaging plastic (stretch film)
All plastic containers except styrofoam (e.g. meat / fish tray, poutine dish)
Glass
Bottle of wine
Beer and alcohol bottles
Glass food containers
Any other colored or transparent glass container
Not accepted: dishes, porcelain and terracotta
Métal
Cans
Aluminum foil and containers
covers
Beer caps
cans
Other
Christmas lights
Pints ​​of engine oil, drained with cap
Household hazardous waste
RDD are products which can be classified as corrosive toxic, flammable or oxidizing. They can be dropped off for FREE at the eco-center and at the municipal garage in Rivière-au-Renard.
In addition to the eco-center, the City of Gaspé provides taxpayers with containers in which they can deposit RDDs free of charge.
14, rue de l'Entrepôt, (418) 368-2104, ext. 8591. It is advisable to telephone before going to the site to ensure that a municipal employee is on site.
Instructions to be observed when filing or picking up RDDs annually: Since these materials can cause harm to our environment and our health, the City of Gaspé asks you to follow these guidelines:
The products must be in their original container and be clearly identified to facilitate processing;
Never mix or transfer hazardous household residues, as major chemical reactions may occur or prevent their recovery;
RDDs must be brought in tight containers. It is a bulk deposit, no container will be given to users;
Only hazardous residues from domestic use are accepted;
RDDs are responsible for 80% of contamination of landfills;
Never dispose of these products with your household waste or in the sewer.
For more information on RDD: (418) 368-0565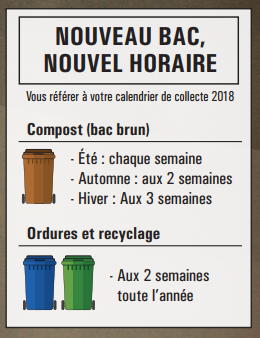 Landfilling is the last component of residual material management, that is, it should only be used as a last resort. In fact, only materials that do not recycle, compost or recover at the eco-center should be buried.
Following a characterization study of the waste buried at the LET in Gaspé, only 21% of the material buried was "real waste", that is, the ultimate residue.
Residents wishing to dispose of materials must deposit them, sorted, in the compartments for this purpose of the eco-center.
The RITMRG has developed a joint residual materials management plan (PGMR) for the MRC du Rocher-Percé and the MRC de La Côte-de-Gaspé. This document, adopted by the MRCs in December 2014, elaborates the planning of residual materials management (GMR) on the territory for the period 2015-2019. The plan also establishes objectives for the City of Gaspé and our MRC.
To view the document: PGMR 2015-2019
0
Reduce the quantity of residual materials eliminated to 550 kg per inhabitant: The Côte-de-Gaspé MRC is currently 851 kg per inhabitant
0
Increase recycling rate: More than 15% of citizens do not participate in the collection of the blue bin.
0
Offer a solution to the entire territory by collecting organic matter: The implementation in June 2018 of three-way collection materializes this objective.
0
Reduce the quantity of buried Construction, Renovation and Demolition (CRD) residues by 35%: the construction of the new eco-center in Gaspé will contribute to bringing us closer to this objective.
QUESTIONS, ANSWERS, TIPS AND TRICKS
Composting: Questions and Answers
For any questions, you can contact Ms. Laury Aspirault at (418) 368-2104, extension 8509.
When does the collection of organic matter begin?
You will receive your brown bin, along with a counter bin and information leaflet, during the month of May and the collection will start the week of June 4. It is important not to put any organic matter in your bin before May 28. Consult your collection calendar to find out the collection day in your sector.
I already practice composting at home. What will I use the brown bin for?
Can I put my moose carcasses in the brown bin?
Can I use a plastic bag to package my organic materials?
Will there be odors and white grubs?
And what happens in winter?
Isn't it more polluting to transport our organic matter to Chandler?
The brown bin, does that concern me?
Do I have to participate in the collection of organic matter?
Why was my brown bin not picked up?
What does it do if I put rejected materials in the brown bin?
How much will it cost me?
Who do I call for answers to my questions?
The brown bin arrives in Gaspé: all the info