In accordance with the toponymy policy of the City of Gaspé, a public notice is published 15 days before a meeting of the toponymy committee in order to solicit the opinions of citizens as to the possibility of a name being assigned to a public space in the town of Gaspé.
The toponymy committee, formed within the town planning advisory committee, will meet on September 15, 2021 or in the following weeks to decide on the public name of the cycle path at the location indicated below.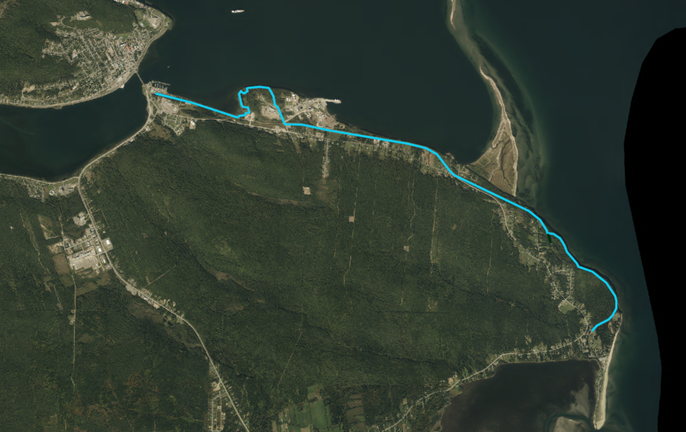 Bike path located between downtown Gaspé and Haldimand beach.
The name proposed for this location is as follows: Réal-Coulombe cycle track replacing the name Sentier des Pionniers currently in use.
Mr. Réal Coulombe died of cancer on February 8, 2019. He was an active and committed citizen. Winner of the 2009 Hommage Bénévolat-Québec prize awarded by the Government of Quebec, he was involved in many facets of the development of the city of Gaspé.
Involved in particular with the Gaspé Minor Hockey Association, the Les Éclairs de Gaspé Cross-Country Ski Club, the Fort-Prével Golf Club, the Cycling Club, the Gaspé Triathlon, the Tour de Baie-Cycle de Gaspé and the International Appalachian Trail, he was an important volunteer in several sports organizations in the area.
At the community level, he is involved with the Knights of Columbus, Radio-Gaspésie, the TDLG, the ADO de Gaspé Foundation and as a volunteer at the Le Hauban Volunteer Center.
A great fan of cycling, he participated in several events including the Tour de la Gaspésie and the Tour de Baie-Cycle. Even during his battle with the disease, he continued to practice this activity.
In order to collect comments on the proposed choice, the City of Gaspé offers the possibility to interested persons to submit their comments via one of the following ways:
By mail to the following address: Ville de Gaspé
Attention: Toponymy Committee | 25, rue de l'Hotel-de-Ville Gaspé (Quebec) G4X 2A5
Comments received on or before September 10, 2021 will be submitted to the toponymy committee for analysis of the file.
The Town of Gaspé thanks you for your participation.